Welcome to Zelfipedia!
Love your zelf! Meet the hair-raising creatures that magically appear under the twilight sky, in their own garden Zardenia! The Zelfs are a new toy line made by Moose Enterprises. There's tons of Zelfs to collect - can you get them all?
Zelfipedia aims to be a detailed and concise website that can be a one-stop resource for everything that comes from The Zelfs franchise. Catch up with the line at Zelfipedia!
This wiki is not associate with Moose Enterprises or any companies connected to the Zelfs franchise. This is a fan-driven wiki.
Meet the Zelfs
Series 1
Series 2
Ultra Rare
Merchandise
Check out a range of awesome Zelf merchandise:
Large ● Medium ● Lil' Zelfs ● Playsets
Rules of Zardenia
This wiki is NOT a fandom wiki. Do not post your own creations on pages.
Keep bad comments to yourself, and be nice to others.
Try to keep your language suitable for all ages. This is a toy line aimed for kids, and they will likely look at the wiki.
Zelf of the Moment
Beetrice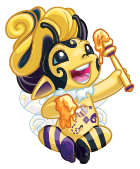 There's always a beehive of activity around this sweet busy bee. The other zelfs always make a bumblin' beeline for her honey candies. If you ask the secret to herdelicious treats, she sweetly smiles and says… None of your beeswax, honey! Check out her fab profile here!
Zelf News
Other Wikis
Zelftastic Poll
Which Zelf best matches your personality?
Love your Zelf!
---
Ad blocker interference detected!
Wikia is a free-to-use site that makes money from advertising. We have a modified experience for viewers using ad blockers

Wikia is not accessible if you've made further modifications. Remove the custom ad blocker rule(s) and the page will load as expected.