Toys are a key part, if not the key part of the Zelfs franchise.
The toy releases are the main feature of the Zelfs line - they are sold in stores and online, to make money for the companies that manufacture them.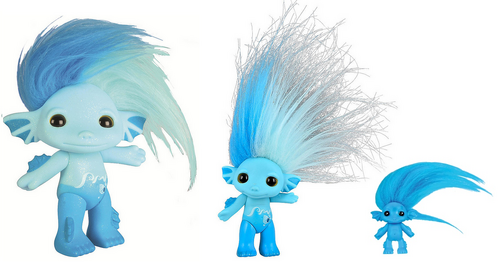 Figures make up the main body of the Zelfs collection. The main feature of the toys is the hair - which the owner can style, using rubber bands, extensions or just hand styling. The hair is made to keep high up, but owners can style it to go downwards, to the side or in ponytails or braids. 
There are three different types of Zelf figures currently out on the market:
Large Zelfs are similar to the common fashion doll format - there are only a few characters released at once, and they come with full brushes and hair extension pieces, for more of a styling asset. 
Medium Zelfs are similar to collectable figurines, and are smaller than the large ones, though not much different otherwise. There are a lot of characters made in this form, so that the owner can collect several of them. 
Lil' Zelfs take a mystery pot format - each Lil' Zelf is encased in a mystery pot, in which the Zelf is not visible. They are the smallest of the Zelf sizes.
Playsets are also a part of the Zelfs line. They incorporate the different themes of the line and expand the play universe for the owner. They may also include a Zelf figure, usually an exclusive character. So far, there have been two playsets released with a third coming out in the fall of 2014.
Toy releases
Edit
To see the full list of releases for the year 2013, visit Toys/2013.
To see the full list of releases for the year 2014, visit Toys/2014.