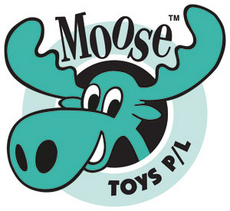 Moose Enterprise is an Australian-based toy company. They are the makers of The Zelfs.
Company Overview
Edit
The company is based in Melbourne, Australia, and has offices in Hong Kong, China and the USA. Their products are sold in countries such as its' native Australia, the US and the UK - altogether over 75 countries sell Moose products via the various distributors.
Toy lines
Edit
Besides from The Zelfs, Moose manufactures many toy lines. The most successful ones include:
The Trash Pack is a line aimed at boys, and is successful for the company. It is based upon a 'gross gang in your garbage' and incorporates mystery containers, much like The Zelfs.
The Ugglys is a line of electronic toys aimed at boys, and are 'gross best friend' dogs.
Blingles is a craft line aimed at girls, which incorporates stickers, glitter and jewels to craft accessories.
They also handle distribution of toys from franchises such as Angry Birds and the Annoying Orange in Australia.
Web sites
Edit