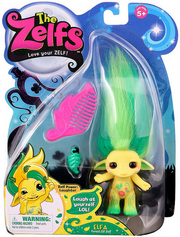 The Medium size is one of three different sizes of Zelfs figures.
Standing at sixteen and a half centimeters tall (counting the long hair), these are the middle size of the main three sizes. They are smaller and cheaper-price, making them a much more collector-friendly product than that of the Large assortment. They are aimed more as a play figurine, with a hair-play aspect, but also the assortment of characters makes the line a collector-fuelled purchase. 
Accessories
Edit
The Medium Zelfs are packaged with accessories - the first is the collectors leaflet, which comes with all Zelfs. This includes a bio of the Zelf and a mini-checklist. The second is a set of elastic bands. The third, mostly unique to the line, is a single-coloured charm on a black string, that can be used on the Zelf as a necklace, or on the owner as a bracelet. The final accessory is a small comb.
Assortment
Edit
These are the characters in which a Medium Zelf has been made:
For pictures relating to the article, go to: Medium/Gallery